I'm participating in the Celebrity Cook-Along hosted by Lynn at Happier Than A Pig In Mud. This months celebrity chef is Rachael Ray, and I decided to make her Monkey French Toast. Breakfast is my favorite meal of the day, so I headed directly to Rachael's brunch recipes when I looked her site up. This is also one of many "Yum-o!" recipes – it's good and good for you. To find out more about Yum-o!, Rachael's nonprofit organization, go to www.yum-o.org.
My Verdict: Delicious! How can you go wrong with a dish that has peanut butter and bananas in it? You cant when it comes to my household bunch. Warm, sweet, gooey… what a wonderful breakfast treat.
Monkey French Toast
Source: Rachael Ray
1 small ripe banana, peeled and sliced
1 tablespoon honey, plus some for drizzling
1/4 cup peanut butter (I used natural)
4 slices whole grain bread (I used my homemade bread)
2 eggs, beaten
A splash of milk
1 tablespoon butter
Mash the banana with a fork and combine with honey and peanut butter.
Make two sandwiches with bread and monkey spread.
Dip sandwiches in eggs beaten with milk.
Cook on a griddle or skillet in warm butter until golden on each side and cooked through.
Drizzle with a little extra honey or my Homemade Syrup and serve.
Serves 2 monkeys : )
Featured On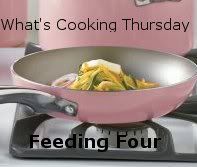 April is a dedicated wife and almost empty-nester mother of five, as well as Mamaw to two adorable grandbabies. She resides in Southern Indiana, along with her husband Joe and their daughter Melissa, and enjoys the quite life on their 3 acre homestead. She enjoys blogging about her adventures in frugal allergy-free cooking, gardening, household tips, and her family.